Ukrainian forces destroyed a Russian artillery division that included howitzers, troops and other equipment, according to the Ukrainian Armed Forces Airborne Assault Troops Command.
The command made the announcement in a Facebook post on Friday and shared a video it said showed the division being decimated by the onslaught of Ukrainian airborne and ground troops. The footage first focuses on what appears to be Russian weapons and personnel partially concealed among the trees, then shows various points in the area engulfed in smoke as they are targeted by a series of strikes. Ukrainian forces reportedly shot down eight 2A65 Msta-B howitzers, ammunition, automotive equipment and an undisclosed number of soldiers from the Russian division.
"Death to the Russian invaders! Together towards victory! Glory to Ukraine!" the read message. He did not specify exactly where and when the division was allegedly destroyed, or what weapons Ukraine used in the strikes.
Newsweek was unable to independently verify Ukraine's report on the destruction of the Russian artillery division. The Defense Ministries of Russia and Ukraine have been contacted for confirmation and comments.
Russia has reportedly suffered several major equipment losses in recent days as Ukraine continues its counter-offensive against Russian President Vladimir Putin's army. Ukraine's Southern Operational Command said earlier this week that its missile and artillery units struck several Russian command points, control stations and logistics supply bases on July 19. Ukrainian Airborne Assault Troops also recently took out a convoy of Russian munitions vehicles, according to the Airborne Assault Troops Command.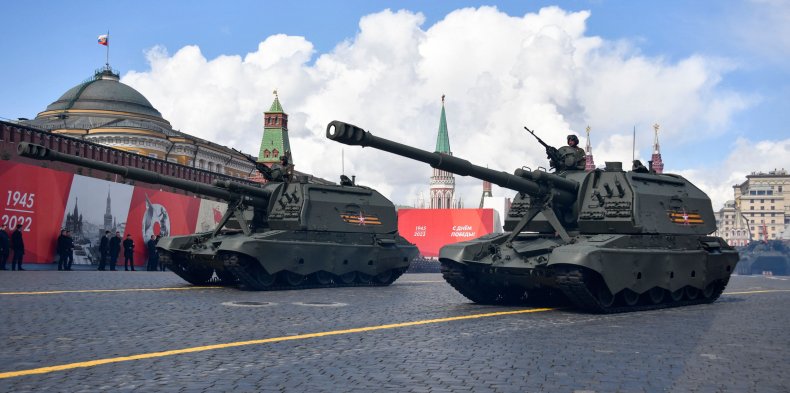 There have been several indications that US-provided High Mobility Artillery Rocket Systems (HIMARS) are having a particularly large impact on the war in favor of Ukraine.
Last week, a senior US Department of Defense official told a press briefing that US HIMARS were having "a significant impact on what is happening on the front lines" in Ukraine. This was reaffirmed Wednesday during a press briefing by General Mark Milley, Chairman of the Joint Chiefs of Staff, and Secretary of Defense Lloyd J. Austin III.
Milley pointed out that the Ukrainians have "effectively used" rocket launch systems, "with strikes against Russian command and control nodes, their logistics networks, their field artillery near defense sites and many other targets. ".
Milley said none of the US HIMARS had been destroyed "to date", which Russia has contradicted.
Russia, meanwhile, continues to claim that it will emerge victorious from the war.
Russian Foreign Ministry spokeswoman Maria Zakharova told a press briefing on Thursday that "all goals of the special military operation will be achieved with certainty." She also said what is happening in Ukraine reaffirms the importance of Russia's "denazification" effort in the country.